Antique Hand Painted Love Knot Blue Birds Mother Pearl Pendant Victorian Locket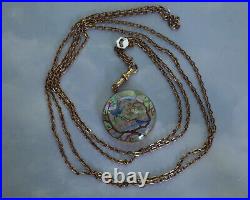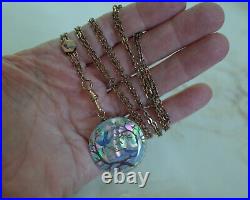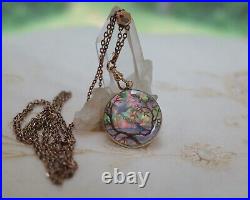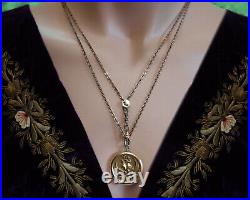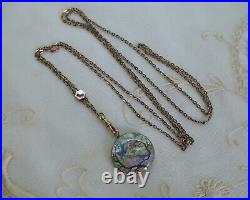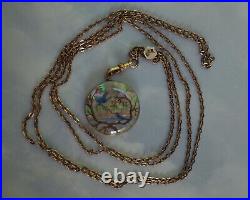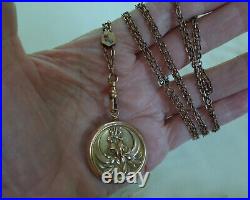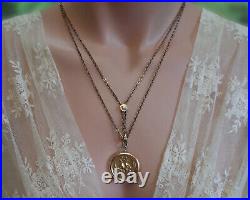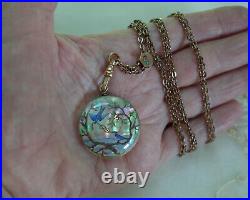 Antique Hand Painted Love Birds & Love Knot Mother of Pearl Pendant on Victorian Gold Filled Turquoise Pearl Ruby Slide Chain Necklace. A spectacular Victorian Necklace with a Hand Painted Pendant/Locket.
This gorgeous pendant was a locket that was broken, so i removed the back and and cut a round "canvas" of genuine Mother of Pearl and hand painted a scene of two birds with a string looped into a lover's knot held in their beaks. The association of knots with the symbolism of Forever: Cannot be untied, dates back to antiquity.
The white MOP has the most beautiful natural luster in iridescent shades of pinks and greens. The painting is done in gouache, an ancient medium use to paint miniatures for hundreds of years. The painted MOP disc has been affixed to the locket front and an antique watch crystal protects the painting. The miniature painting measures 1 inch in diameter and is suspended off a swivel hook and antique slide chain.
The opposite side of the pendant features a gorgeous gold filled, repousse, Art Nouveau floral design. The antique slide on the chain features a tiny ruby, pearl & turquoise and the chain measures 48 inches long.
This is a beautiful OOAK piece assembled with antique components.