Antique Victorian Hand Painted Porcelain Brooch, Woman in Purple Mauveine Dress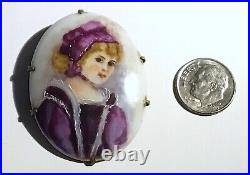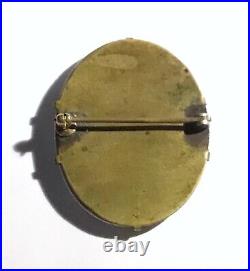 This antique hand painted porcelain brooch measures 1 7/8" tall and 1 3/8" wide. The plaque has a brass backing.
Pin back is a more modern replacement. There is a story to the purple frock and bonnet this lass wears.
Before 1856, all fabrics were dyed with natural colors. Then when William Perkins invented coal tar dyes, purple "mauveine" dye was his first product. It was a beautiful and vibrant special hue of purple. The fabric popped up everywhere! So perhaps this young woman wore a brand new dress from one of those fresh bolts for her portrait. Jewelry with a story to tell is the best. Continuing the tradition, garb yourself in purple and sport this bit of history. You will have a ready tale.