Large Victorian Silver Plated Epergne 3 Arms Centerpiece Hand Blown Glass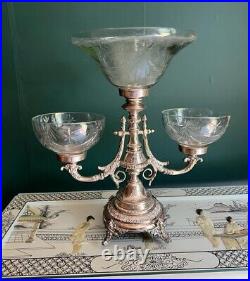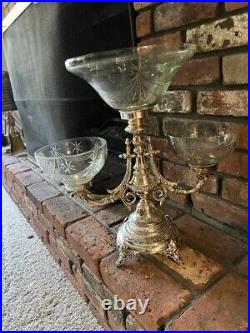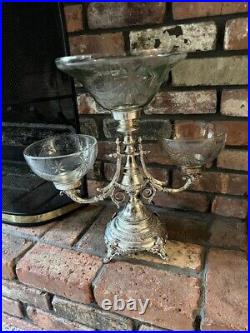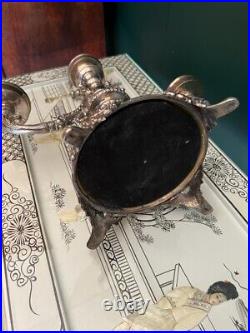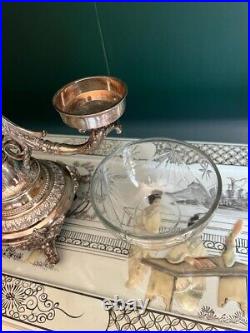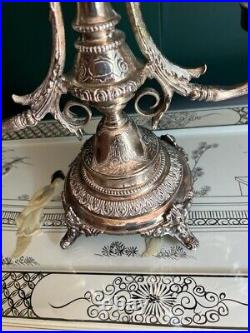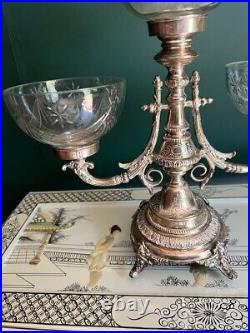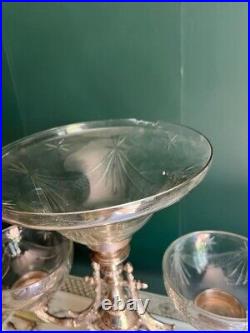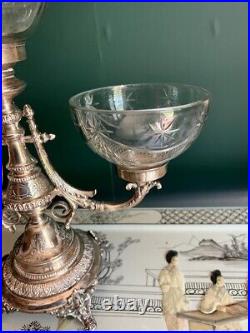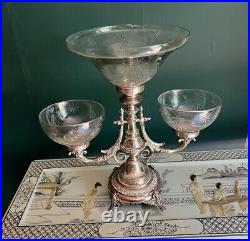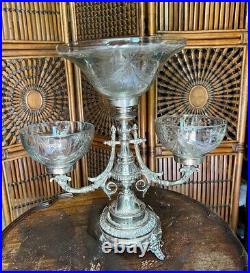 Behold the grandeur of this Large Victorian Silver Plated Epergne, a magnificent centerpiece that exudes timeless elegance. Crafted with exquisite artistry, this opulent piece showcases three gracefully upswept arms, each holding a stunning hand-blown etched crystal bowl. With dimensions measuring an impressive 19 inches in height and 17 inches in width, this epergne commands attention and serves as a focal point for any space it adorns. The weight of 8.13 pounds speaks to its substantial presence and quality craftsmanship.
The silver plating, delicately applied to the epergne, adds a touch of luxury and sophistication. The gleaming surface beautifully reflects ambient light, further enhancing its visual allure. Despite its age, this remarkable piece is in excellent condition, testament to its durability and the care it has received throughout the years. It is worth noting that there is a small chip on one side of the large bowl, but this minor flaw does not diminish its overall beauty and functionality. The central large hand-blown crystal bowl, with its intricate etched design, serves as the focal point of the epergne.
Its impressive size and exquisite craftsmanship make it a striking vessel for displaying fruits, flowers, or other decorative elements. Flanked by two smaller crystal bowls of similar pattern, this epergne offers a symmetrical and harmonious composition that further enhances its visual impact. This Large Victorian Silver Plated Epergne embodies the splendor and refinement of the Victorian era. Whether showcased on a dining table, a mantelpiece, or as a statement piece in a grand foyer, it is sure to evoke a sense of opulence and sophistication.
Immerse yourself in the captivating beauty of this exceptional centerpiece, a testament to the artistry and craftsmanship of a bygone era.