Night & Day Cameo Goddess Rare Large Shell Victorian Hand Carved Eos Beaded OOAK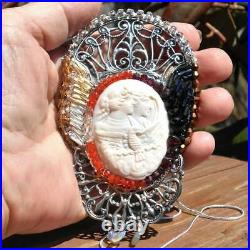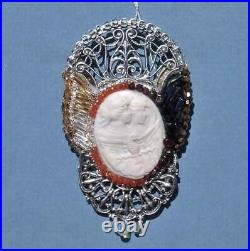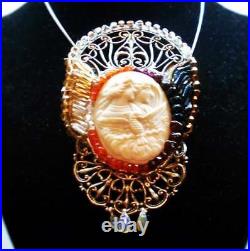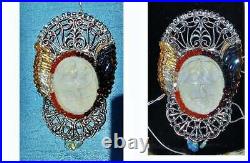 Antique Victorian Hand Carved Eos Night & Day, Rare, Large Shell Cameo of Roman Goddess in Art Nouveau Beaded Night & Day Setting Brooch/ Pendant. Cameo itself is large 2" x 1/12", Pendant/ Brooch is 4" x 2 1/2". High relief, high contrast Angel Skin Coral shell of Eos Roman Mythology Goddess.
Eos was the Greek personification of the Dawn, the daughter of the Titans Hyperion and Theia and the sister of Helios (Sun) and Selene (Moon). At the close of each night, rosy-fingered, saffron-robed Eos rises from her couch in the east and mounts her chariot drawn by the horses to do Her godly duty i to ride to Mount Olympus and announce the approach of her brother Helios. When Helios appears Eos becomes Hemera (Day) and she journeys along with him on his travels until, now transformed into Hespera (Dusk), she announces their safe arrival on the western shores of the great Ocean.
From MYTH MAN'S HOMEWORK HELP CENTER. The last picture shows her riding chariot to announce the day and back of cameo. Eos symbols of Eagle with Cornucopia on bed of clouds with poppies in her hair, on right as night she wears a cloak of saffron.
Some of the beads I used to show day and night are genuine garnets, carnelians, crystals, silver lined crystals, silver lined twisted clear bugles, bicone gold & bronze crystals, midnight blue twisted bugle, matt black bugles, Antique jet black glass bugles, & genuine opals hanging on the bottom. As you see in pictures, Opals do not lay flat; but have a mind of their own.
This adds to the general feeling that Eos is air born. These two findings unmarked, but silver, upper & lower findings are great antique art nouveau filigree thin belt buckles. They have a great patina but Polishes well with silver cleaner. I spared no amount of expense or labor giving her the ardor, and place of honor and respect she so richly deserves. Wear as Brooch or pendant.
I have included a new marked Sterling Silver Snake 28 necklace at no charge. This is a heavy well embellished cameo. AND this Pendant makes a beautiful statement wall hanging when not being worn.
I left the back of this beautiful gem open for the light to shine through. You can search & bookmark my store at.