Vintage Hand Carved Bacchante Cameo PARTY GIRL, Little Bit Too Much of the Grape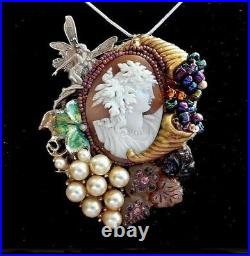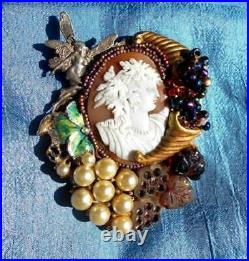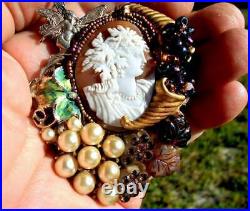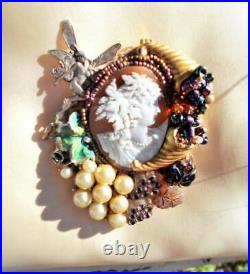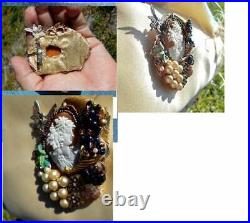 Vintage Hand Carved Large Bacchante Cameo, PARTY GIRL CAMEO, With a Little Bit Too Much of The Grape! Vintage Hand Carved Large, 1 1/2 " X 1 ". She is a Bacchante Cameo, with grape leaves in her hair. A priest, priestess, or votary of Bacchus; bacchanal.
First for you sensual delight, this is truly a fantastic carving. Then outlined beautiful cameo in bronze varying color seed beads.
I, of course left the back open, so this awesome gem could have light shining through. The opening on the back is surrounded with gold satin. This Crazy quilt style is made on beige felt, and a large metal brooch setting with awesome Victorian style lustrous faux white grape pearls on the left, on the bottom are two 75 year old frosted glass & lavender rhinestone grape trims. Then are a couple of wide gold lavender & root beer leaf beads. A special Vintage find of 2 brass cornucopias with colorful bead grapes.
Fortunately, Overseeing her is a Sterling Silver nude winged fairy. I spared no amount of expense of labor or vintage items to make this Cameo setting. I admit I may have overdone it with this one, it is surely a feast for the eyes.
Pendant brooch measures 3 " x 2 1/2 ". This gorgeous luscious Cameo Setting is symmetrical and asymmetrical in places.
Brass, bronze, copper & gold tone with Gold & silver Highlights. Very Sweet Victorian style Pendant or brooch, wear either way. AND this Pendant makes a beautiful statement wall hanging when not being worn. You can search & bookmark my store at.